On June 11, UPYUN-Zhejiang University Joint Research Institute of Intelligent Computing Innovation was officially launched. Prof.Yang Jianyi, Dean of College of Information Science and Electronic Engineering, signed the contract. The signing ceremony was presided over by Prof. Zhao Minjian, Vice Dean of ISEE. ZHANG Junfei, Vice Minister of Development and Technology Transfer Department of the Academy of Science and Technology attended the ceremony and expressed his hope that the Institute will deepen cooperation to make a myriad of achievements in scientific innovation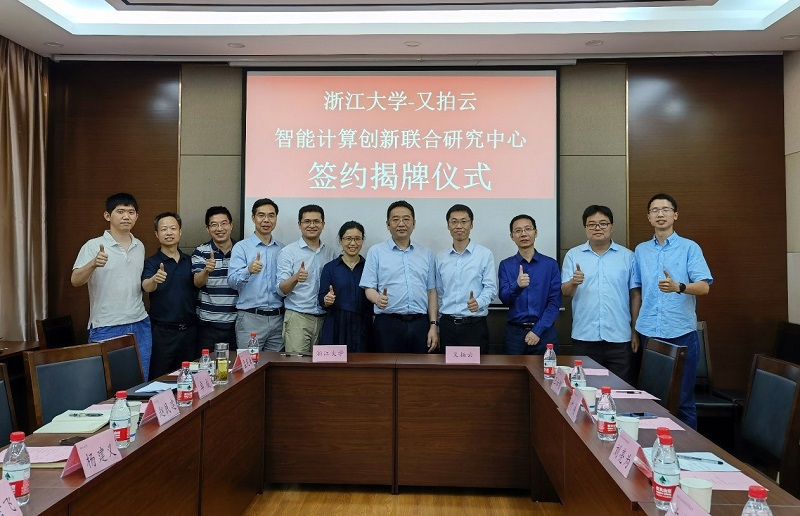 Prof.Yang said that the Institute is a powerful platform to promote university-enterprise cooperation and promote the transformation of university scientific research results. He encouraged the Institute to focus on the specific requirements of Zhejiang's digital reform and encourage excellent faculty to carry out research from dimensions of data, computing power, algorithm, and so on.
Chairman LIU Liangwei said in his speech, Zhejiang University is a prestigious institution of higher education with a long history, and has cultivated a large number of high-level talents. UPYUN, one of the first domestic providers of cloud services, is committed to using technology and data to promote the development of social industries, and he expressed his hope that both sides will promote the development of intelligent computing industry through in-depth cooperation.
After the ceremony, accompanied by Prof. Zhao Minjian, representatives from UPYUN visited the Key Laboratory of Intelligent System and Application of Advanced Micro/nano Electronic Devices in Zhejiang Province.
UPYUN-Zhejiang University Joint Research Institute of Intelligent Computing Innovation aims to explore the industry-university-research cooperation on new technologies in the field of intelligent and edge computing, accelerate the training of high-level interdisciplinary talents in artificial intelligence and chip design, and promote the industrialization of university achievements. The Institute will focus on future data center resource allocation, distributed computing, heterogeneous platform design and cloud edge computing collaboration and other aspects of research and application exploration.