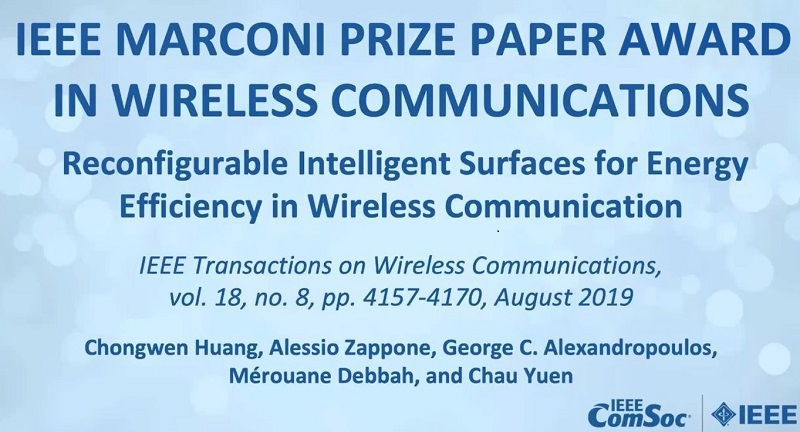 At the IEEE International Conference on Communications (ICC) Awards Ceremony held on June 15, Professor Huang Chongwen won the IEEE Marconi Prize Paper Award in 2021.
The IEEE Marconi Award is one of the most prestigious academic awards in the field of communications. It is awarded annually and was established by the IEEE Communications Society in 2003. It is named after Guglielmo Marconi, the Italian inventor and Nobel laureate in physics who was the father of wireless communication over the ocean for the first time. Each year, the IEEE Communications Society selects the only one excellent paper from all papers published in the IEEE Transactions on Wireless Communications in the past three years based on the originality, practicability, timeliness and clarity of the paper jointly.
The award-winning paper is titled Reconfigurable Intelligent Surfaces for Energy Efficiency in Wireless Communication, and published in the IEEE Transactions on Wireless Communications, vol, 18, no, 8, pp. 4157-4170, Aug. 2019. The authors of this paper include Professor Huang Chongwen (The first author and corresponding author) , Professor Z. Alessio from the University of Cassino and Southern Lazio, Professor G.C. Alexandropoulos from the University of Athens, Professor C. Yuen from Singapore University of technology and Design, and Director of the Huawei Mathematical and Algorithmic Sciences Lab in French together.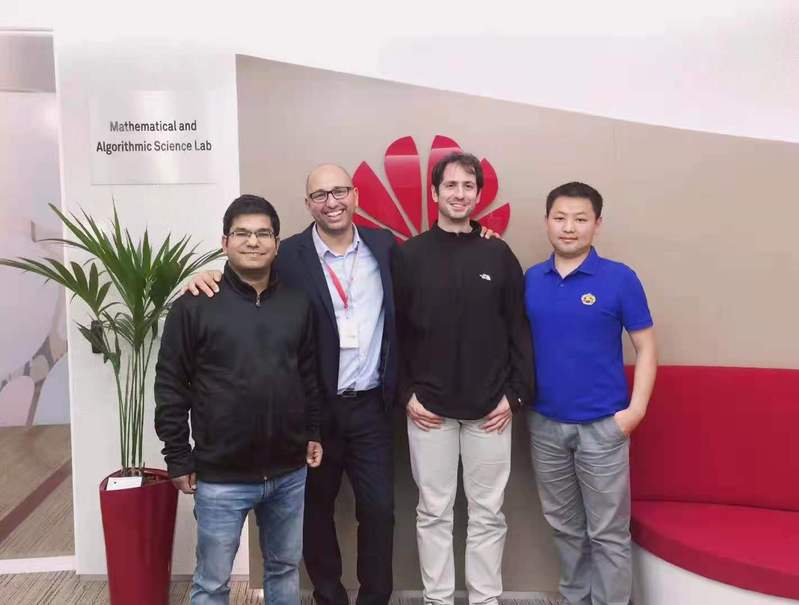 Prof.Huang Chongwen (right) and his collaborators
Aiming at the problems of high load and uncontrollable analysis involved in existing communication systems, this paper innovatively proposes a wireless communication scheme, a system model and a power consumption model based on Reconfigurable Intelligent Surfaces, and analyzes the energy efficiency of wireless communication systems empowered by smart super-surfaces in typical outdoor application scenarios, and proposes an optimization algorithm for maximizing energy efficiency. The experimental results show that in comparison with the use of regular relaying, the proposed scheme is able to provide up to 300% higher energy efficiency. The Reconfigurable-Intelligent-surfaces-enabled wireless communication technology proposed in this paper has the advantages of low cost, low power consumption, can effectively improve communication quality, expand coverage, and enhance transmission robustness. It is one of the most promising product technologies for 6G communications in the future and has aroused widespread attention and continued follow-up of domestic and foreign counterparts.
Since its publication in August 2019, this paper has been cited more than 720 times (Google Scholar), and ranked first among 1576 papers published in the same period. It has also been the most-cited paper in the field of wireless communication empowered by Reconfigurable Intelligent Surfaces. In July 2020, it was selected as ESI Hot Papers (papers ranked within the top 1‰ of the world in the subject) and ESI Highly Cited Papers (1%).
Huang's personal homepage: https://person.zju.edu.cn/en/chongwenhuang